2022 Chevy Silverado 1500
The New 2022 Chevy Silverado 1500 is consistently one of the most popular pickup trucks, and one of the main reasons why is because it's highly customizable. No matter what you're hauling or where you're heading, the new Silverado 1500s will provide a configuration that suits your needs.
Engines That Perform Well
Beneath the hood, the 2022 Chevy Silverado 1500 can come with any of five different engines. Each providing a unique performance:
4.3L V-6: The base engine is a 4.3L V-6 that balances power and efficiency. It generates 285 hp and 305 lb-ft, while getting 15 city and 20 highway mpg. This is a solid all-around option that doesn't add anything to the price tag.
2.7L Turbo Four: A 2.7L turbocharged four that's new on this model redefines what a four-cylinder can do. The turbo enables it to generate 310 hp and 348 lb-ft — more than the base V-6. Fuel efficiency comes in at 19 city and 22 highway mpg. The four is worth considering for all-around use, as it's similar in specs to the base V-6.
5.3L V-8: The 5.3L V-8 steps up its game with good, old-fashioned power. A total of 355 hp and 383 lb-ft will haul all but the heaviest loads. Fuel efficiency rates drop to 14-17 city and 18-23 mpg depending on the exact configuration, but there's no substitute for the roar of eight cylinders.
6.2L V-8: An even heftier 6.2L V-8 adds more size for more power. Specs come in at 420 hp and 460 lb-ft, while still getting a respectable 16 city and 21 highway mpg. If you want eight cylinders, you might as well go big when hauling a trailer away from home.
Diesel 3.0L Turbo I-6: The Duramax diesel 3.0L turbocharged I-6 offers efficient power that virtually no standard gasoline engine can match. Low-end torque maxes out at 460 lb-ft, yet fuel efficiency can reach 23 city and 33 highway mpg — that's better on the open road than many sedans. The lower 277 hp doesn't impact driving in most situations, as that torque can get up to 13,300-pound loads moving without issue.
(Fuel efficiency numbers vary slightly depending on drivetrain, tires and other factors.)
Off-Roading Features Optional 
If your adventures take you out past the pavement, the New 2022 Chevy Silverado ZR2 has the chassis and exterior  enhancements to prevent you from getting stuck. Even in the worst mud, sand and water, the multimeric DSSV dampers, front and rear electronic differentials, special steel bumpers, underbody skid plates, and 33-inch tires will help you carry through.
Flexible Interior Cabin Choices
From fitting everyone to keeping you informed, the 2022 Chevy Silverado 1500s have the features you want. Some highlights include:
Seating for 3 or 6 passengers
14.3-in. touchscreen infotainment system
Built-in Google connectivity
12.3-in. driver information center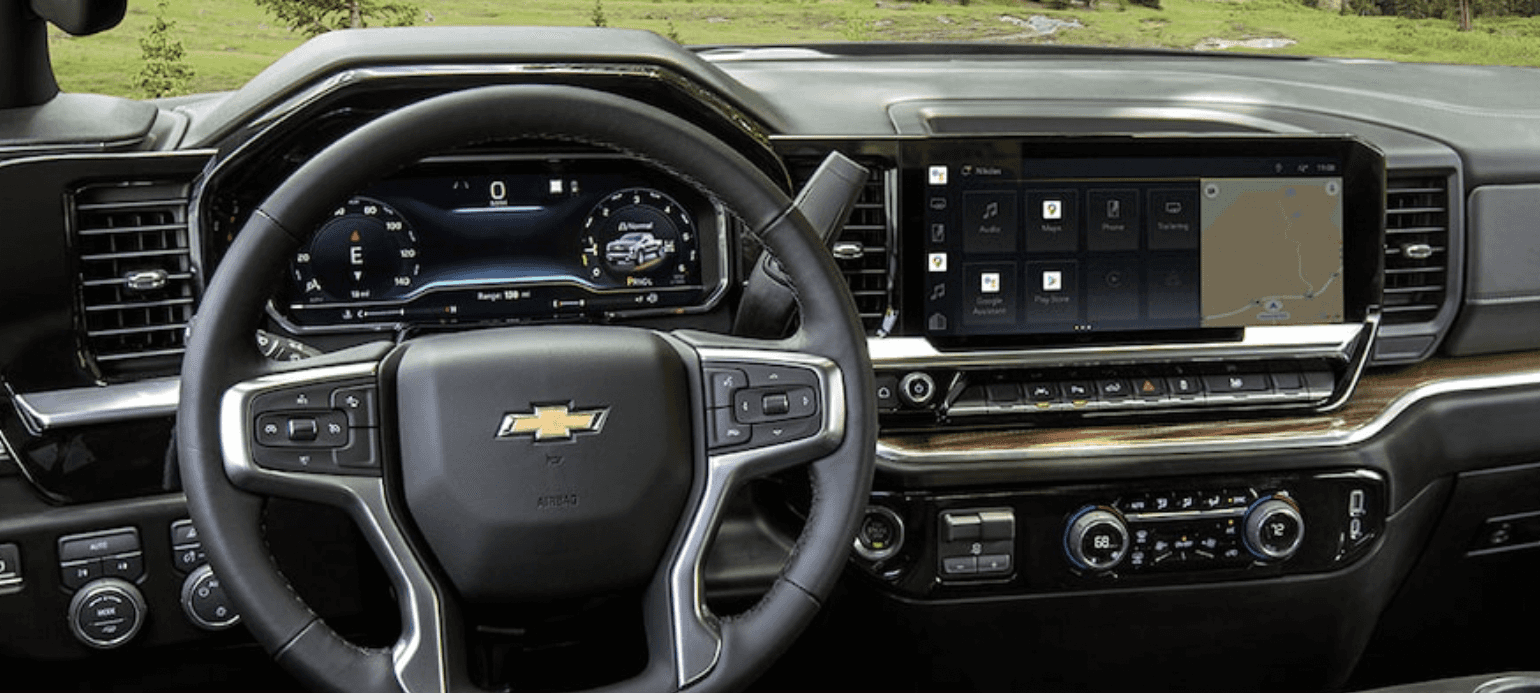 The low-end Work Truck trim is relatively bare-bones, providing just the essentials if you're regularly on the job (including manual locks and windows). At the high end, the High Country interior is accented with open-pore wood and leather.
Find a 2022 Chevy Silverado 1500
To compare the 2022 Chevy Silverados in one location, come and see us at Team One Chevrolet of Gadsden. We have plenty in stock with various configurations, and we can always custom order one with the exact features you're looking for. Test drive your dream 1500 today!