All About the New 2021 Chevy Colorado
Team One Chevy Colorado
One of the best ways to tackle different driving challenges in Gadsden is by owning a robust Chevy pickup that is competent and packs plenty of power. Although there are many models drivers can choose from in the auto industry, few are as impressive or reliable as the Chevy
Colorado
. The Colorado is known to have a great towing capacity and drives smooth on different types of roads, with a few other features that you can discover before getting a look at the car at our Team One Chevy Gadsden dealership.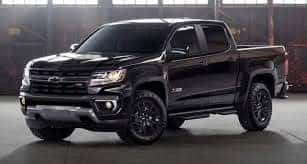 Highlights
The new Chevy Colorado packs a V6 engine and turbodiesel powertrains while delivering a smooth ride and excellent handling to make it feel like you're still driving in a sedan. A user-friendly infotainment center is the main focal point on the dashboard and has simple menu layouts and controls. The vehicle works hard with its form and function while showing off a striking exterior. The diesel engine that's available to select even has the best-in-class towing capacity when you need to use it for business or commercial purposes. More customization is offered with the model compared to other well-known brands in the industry. The crew-cab cabin is also spacious to accommodate multiple passengers and has excellent outward visibility. Short or long beds are also available, depending on how you plan to use the truck.
New Features
A few changes have been made with the Chevy Colorado to continue accommodating the modern driver. The vehicle's base trim has been discontinued, and the exterior styling has been updated to look more modern and attractive. The oversized grill seamlessly blends into the headlamps and creates a sharp look on the front. Black and chrome accents also offer classy touches and pair well with the rugged design of the truck. All trims now offer all-wheel drive to ensure you have enough traction on the road. Android Auto and Apple Carplay come standard to ensure you have connectivity with your smartphone. Remote start makes it easy and convenient to get in and out of the vehicle without reaching for your keys or digging around in your bag. A tow package is also offered to ensure the vehicle is more versatile and capable of performing tough jobs.
Safety Features
Not only is the new Colorado capable of tackling steep inclines while towing tons of pounds, but it also makes safety a priority with its active safety features. The backup driver features clear graphics and offers visibility with backing up the car. Parking sensors/assist alert you if objects are within a few feet of the vehicle. The Teen Driver system is one of the most useful safety features that you won't find in similar models. You can have the ability to set limits on the volume of the stereo of the truck, as well as receive alerts when the car reaches a certain speed. The technology will even provide you with an in-vehicle report card that gives you important stats every time your teen driver takes the car out. This will ensure they have accountability with how well they operate the car and can allow you to monitor their driving skills. The system will remind your teen driver to buckle up before they start driving with both audible and visual alerts provided. A forward collision warning feature and lane departure warning can also be utilized for improved safety. Crash tests performed by the Insurance Institute for Highway Safety show the pickup truck performed well upon impact. The vehicle also earned high ratings by the National Highway Traffic Safety Administration.
When you're ready to test drive this new Chevy truck, we invite you to reach out to our team in Gadsden to discover more of what the model offers. We'll also inform you of our financing options available and can offer assistance with exploring our inventory of models at our Team One Chevy Gadsden dealership.