Benefits of Servicing your Vehicle at Team One Chevy
Your vehicle represents a massive investment. Because of this, it only makes sense to protect your investment with regular vehicle maintenance, service, and repairs. However, you aren't limited by options when it comes to finding a service and repair facility in the Gadsden area. In fact, you can find a third-party repair and service facility on virtually every corner. So how do you know the best facility to service your vehicle?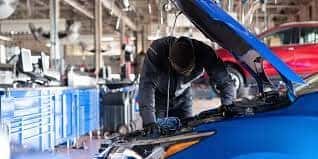 It's simple — Team One Chevy. Since we have opened our doors, Team One Chevy has been the leading maintenance, repair, and service facility for Chevrolets, Buicks, GMCs, and more. We offer a state-of-the-art service facility with comfortable seating and countless amenities. But that is only the beginning. Let's take a closer look at why you should have your vehicle serviced at Team One Chevy in Gadsden.
Get Genuine OEM Parts at the Dealership
When you have your vehicle serviced at the dealership, you can rest easier knowing that it receives the genuine Original Equipment Manufacturer (OEM) parts it was designed to use. Whether it's brake pads, oil filters, spark plugs, or any other component; the best parts are those the vehicle was designed with. On the other hand, auto shops and third-party facilities are more likely to use after-market parts. While these inferior parts may save you a buck today, they are not the same quality as the premium OEM parts.
Enjoy the Best of the Best
The average new vehicle will cost you north of $30,000, which is a considerable investment. If you are looking to extend the life of your vehicle and maximize your fuel efficiency, the dealership is the best place for service. Each service technician has been specially trained and educated on the intricacies of your vehicle.
Anytime there are updates to the factory-approved process, the dealership staff will be privy to this information. At the same time, the dealership uses state-of-the-art equipment to protect your investment. In contrast, third-party repair facilities are simply not up to date on the best methods and equipment for your vehicle.
Save Time at The Dealership
Because the dealership's staff is factory trained and utilizes the latest equipment, they are often able to perform the necessary services in the most efficient manner possible. In the event they run into an unexpected situation, they have the tools and training to navigate through it.
On the other hand, third-party repair facilities specialize in no one brand or make of vehicle. While this can lead to flexibility, it means they may not understand the unique intricacies of yours. This generalized knowledge causes them to take significantly longer to perform standard services.
Protect Your Warranty
Every new Chevrolet or GM vehicle features a robust warranty package that specifies repair procedures and maintenance schedules. If you were to take your vehicle to a third-party facility, how can you be sure they follow all the right protocols to protect your warranty? Unfortunately, you don't.
This could lead to you being stuck with a hefty repair bill in the event of a mechanical failure and a voided manufacturer's warranty. However, protecting your manufacturer's warranty is easy and hassle-free when you visit the Team One Chevy Service Facility. All of our practices, equipment, and protocols are approved by the manufacturer and designed to protect — not void — your valuable warranty.
Customer Service Comes First
Most of the third-party repair facilities work under the premise that more is better. And to achieve more, they must quickly cycle vehicles through their system. Unfortunately, this often leads to less-than-stellar customer experiences or outright lackluster customer service. At the dealership, however, we thrive on our ability to meet your needs and exceed your expectations. In fact, your complete satisfaction is our ultimate goal.
We are so dedicated to customer service and satisfaction, we regularly conduct surveys to learn where we are and how we can improve. And in the event you've visited Team One Chevy and had anything less than a remarkable experience, we encourage you to let us know, so we can rectify the situation.
Get the Latest Recall Information and Service Bulletins
The dealership's service department holds another distinct advantage in terms of technical service bulletins (TSBs) and manufacturer recalls. Anytime you bring your vehicle to Team One Chevy, we will naturally check to see if your vehicle needs updates from any manufacturer recalls. On the other hand, TSBs are special messages sent from the manufacturer to the dealership about a special procedure or repair for a certain problem.
If you were to take your vehicle to a third-party facility, they may not be privy to the information. And if they are, you will most likely have to pay additional money for the repairs because your warranty wouldn't be valid there.
Get the Best Service at the Best Price at Team One Chevy
Protecting your investment is easy when you trust the experts at Team One Chevy.
Contact us today for fast, convenient, and easy scheduling.