Give Your Car Love That Lasts
Valentine's Day is around the corner, and there is someone in your life who has been there for you every day, doing their best to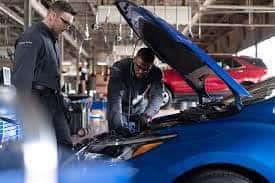 support you in love, work, and play. Without any complaints, they carry your burdens and ask for little in return. This year, make sure you return that affection to the one who stays close to your heart and in your garage: your Chevy vehicle. If you've been neglecting to properly tend to your vehicle's needs, Team One Chevrolet of Gadsden has several vehicle Valentine's Day gift ideas that are available right here at our dealership.
Stop in the Name of Love
While a whirlwind romance is exciting, no one wants to experience a whirlwind while on the road. It's best to keep a level head and step on the brakes enough to reassess the road and keep moving ahead. To make sure your vehicle can do that, schedule a brake inspection and potential replacement. Some brake issues can impact their performance without the noticeable grinding and shudders of brakes on the verge of failure. The Team One technicians will identify any performance issues with your brakes and rotors, giving you a heads-up before your brakes start squealing while going 80 down I-59 on the way to your beau's place.
We select and install our brakes with an enduring love, and we prove it with unlimited mileage warranties that last for a year or longer on brake and rotor replacements.
Treat Your Vehicle to a Fancy Oil Change
While love isn't about money, spending a bit on a thoughtful gift that makes the receiver feel great is worth every penny in the world. You might take your partner out to a high-end restaurant for a good meal, but the closest you can get to that for your car is treating it to a better type of oil than it's used to having day-in and day-out. If you're using conventional oil in your vehicle, you should consider taking the occasion to upgrade to a synthetic or semi-synthetic blend. A certified Team One technician can quickly perform an oil change to replace your vehicle's old fluids with the high-tech alternative. The man-made chemicals in the synthetic oils are designed to give the same lubricating qualities as conventional oil while lasting longer, causing less buildup, and generally increasing engine performance.
Buy a New Outfit
You can't put your car in a fancy suit or a new sundress, but you can install cosmetic accessories that help it feel like a fairy godmother came along and enchanted a pumpkin for your night at the ball. A simple online order form lets you order any part for your Chevy vehicle with the option to schedule an installation along with it. If you're not sure what you want and would like to explore your options, the Team One parts center can serve as your personal concierge through our menu of certified Chevy parts.
Give Your Car a Break
Letting your loved one take a day off from all their normal cares and worries is a classic and timeless gift that is always appreciated. You can't always avoid driving to work or for errands, but you can give your car time to rest by getting another vehicle to share the load. Team One Chevrolet of Gadsdsen has a full fleet of new and used vehicles that will give your current ride a chance to relax. As a side bonus, your partner might have to accept a new car in their life. If you're lucky, they may think it's actually a gift for them.